Government body responsible for wildlife protection issues first license for Hen Harrier 'brood meddling' on grouse moors.
Hen Harrier chicks and eggs will be removed from nests, reared in captivity and released but to what fate? (© Ian Newton)
In a highly controversial move, that will seen by many as the abject failure of the government and law enforcement to tackle illegal raptor persecution, Natural England has granted its first license for so-called Hen Harrier brood management.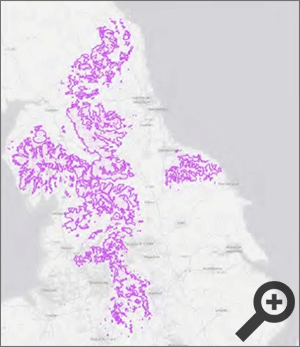 The trial will begin later this year and will involve (if the license conditions are met) the removal of Hen Harrier eggs or chicks from moorlands in County Durham, Cumbria, Derbyshire, Lancashire, Northumberland, Staffordshire as well as North, South and West Yorkshire, .
The move has come despite Hen Harriers being all but extinct as a breeding bird in England, in 2017 there were just three successful nests, from a total of seven attempts, producing 10 fledged young, and without the support of one of the world's leading bird conservation organisations – the RSPB.
In July 2016 the RSPB withdrew its support for the Hen Harrier Action Plan of which brood management is a part of. Writing on the their community blog at the time RSPB Global Conservation Director Martin Harper said: "Simply put, Hen Harriers (and other birds of prey) are illegally killed on some estates because they eat grouse. Crimes are committed to increase the number of grouse that can be shot."
"Some will argue that we should be more patient as behavioural change takes time. But the Hen Harrier does not have time on its side and the longer Hen Harriers remain on the brink, the greater public antipathy towards intensive grouse shooting will become. Hen Harriers and other birds of prey in our uplands will not recover without a completely different approach. We have therefore decided to withdraw our support from Defra's Hen Harrier Action Plan."
In response to the granting of the license the RSPB made the following statement on their Twitter account

The idea that brood management is about helping Hen Harriers is a nonsense. It's about facilitating unsustainable intensive land management which is destroying our uplands. To be clear, RSPB are implacably opposed to this &as a landowner ourselves, will never allow it on our land.
Replying to Natural England's announcement on Twitter Ian Thomson, head of investigations at RSPB Scotland said: "Innovative? No. Tugging a forelock to an unaccountable, unregulated industry responsible through repeated criminal persecution for the shocking decline of this bird? Absolutely. An utterly shameful decision.
And birders and conservation organisations were quick to voice their dismay at the decision too.
This article was first published by the Rare Bird Alert January 2018