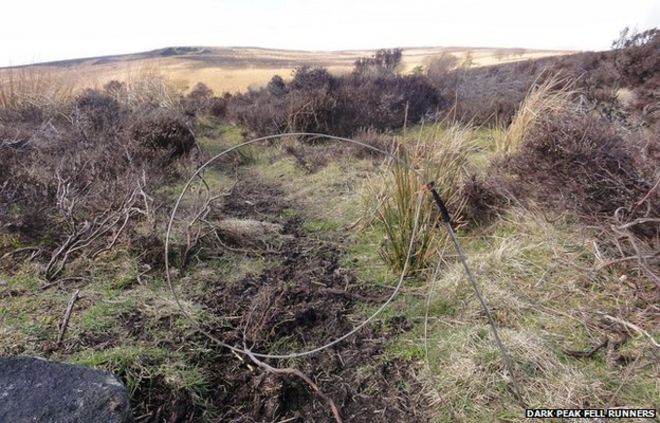 Calls are being made for snares to be banned after two runners were caught in the traps in the Derbyshire Peak District. The wire devices are designed to catch foxes, which prey on red grouse.
An investigation by the League Against Cruel Sports found 100 snares in the nearby area. The organisation says it also found "numerous" bodies of rare mountain hares. The estate that owns the land says parts of the snared areas are fenced in and well signposted.
The incidents highlight the controversy surrounding the management of upland moors and how to balance the conflicting interests of humans and wildlife. Runner Peter (who declined to give his surname) from the Sheffield area has been caught twice in snares in the same area of open-access moorland in the Peak District. The most recent incident took place last January.
"I was in an area of public access, following an animal track through a valley, and I suddenly found myself on the ground. I couldn't get up and felt like I was caught in a trap. I thought it was a piece of wire from a fence. Then I saw my foot was in a snare. I wasn't seriously injured, but it was painful and drew blood. "I was lucky. More damage would have been done if I had hit a rock or a spiky branch – somebody could get seriously hurt."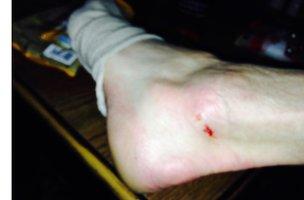 Within a minute of Peter going down, a companion runner also fell in roughly the same spot. He suffered cuts and bruises. It is legal to set snares in the UK. The estate where the runners were injured holds grouse shoots, and snaring is one method used to control animals that prey on red grouse. They must be "free running", which means they slacken once the animal is trapped.
Three runners have been injured in this location over the past five years. Bob Berzins, from the Dark Peak Fell Runners, said: "The law needs to change. This was open-access land and in my opinion the snares weren't properly marked and there were no notices. They should be banned." He said that although the danger to runners was limited to this particular area, a ban was "the only way for people to be safe".
The League Against Cruel Sports conducted an investigation into how the runners were injured and says it found about 100 snares nearby.
The organisation also claims it found numerous bodies of mountain hares, which are rare in the UK. According to Joe Duckworth, chief executive of the league, "The danger of these snares to humans and their pet dogs is obvious, so to have so many snares set in such a popular part of the country is shocking.
"We also found several 'stink pits' containing the bodies of dead animals used to attract animals to the snares, all containing the remains of mountain hares (a species of conservation concern), along with foxes and birds. "Less than one in three animals caught in snares set for foxes are actually foxes, with hares making up the majority of unintended victims."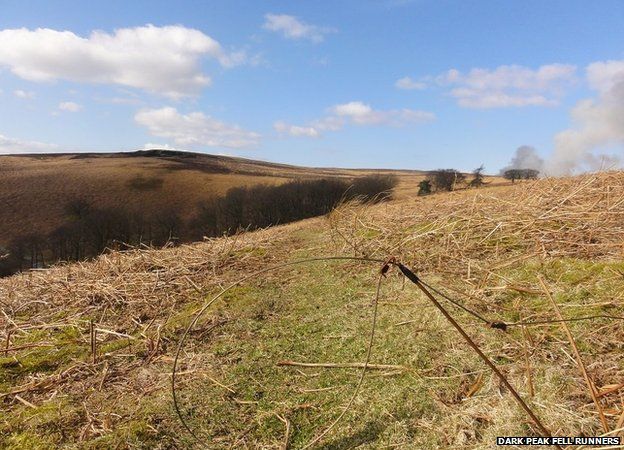 Under the Countryside Act 1981, snares must be inspected every day and any snared foxes killed quickly and humanely by a shot at close range from a rifle. They must also only be set in places likely to be used by a fox or rabbit.
Caroline Hanson from the Moscar Estate, which owns the land, said that part of the snared area is fenced-off and marked with canes. She added that the snares and the canes are being tampered with – in some cases, the canes are being removed. The estate also says that the snared areas are marked on a map made available to the Dark Peak Fell Runners.
"This is the first moorland stop as you leave Sheffield, and so there are a lot of urban foxes present. We have to snare in order to keep fox numbers down. It's not just about red grouse; many other bird species benefit.
"Without snaring, birds such as lapwings and curlews would suffer. This area has the highest European designation for wildlife. We spend a lot of time trying to get this right, and we do a lot to encourage multi-access, including restoring footpaths."
Peter the injured runner said, "I'm not against snares per se. I understand that the grouse moor owners have to make a living. They do have to manage the moors. But I think they have the balance wrong. Hares are caught in the same traps and I don't understand why they do that – I'm presuming all they compete for is the same vegetation."
A spokesperson from the North West Raptor Protection Group has said " these snares set on grouse moors are so numerous in some areas it is simply not possible to check them all each day. It is time the law was changed, they need banning completely."
A man from Cornwall has called for a ban on all wire snares after removing five from a hedge near his home.
Geoff Holman, from Townshend, in west Cornwall, said he risks being prosecuted for removing the snares but said he did it to keep his dog Harvey safe. The National Gamekeepers Organisation insists properly set snares are a way of controlling foxes and rabbits. The RSPCA said it would continue to campaign to see them banned.
Mr Holman said: "They may be set for foxes or rabbits, but they'll catch anything and whatever's in them is as good as dead. It's tragic."
Liam Bell, head gamekeeper and a senior member of the National Gamekeepers Organisation, said: "I set snares legally and responsibly. "But the snares set on a bank or in trees were set wrongly. They shouldn't be set anywhere near a public footpath. They should be set in private areas."
The RSPCA said: "Only 30% of snares actually catch their designated prey – with cats and dogs snagged in them all too often."