A dead sea eagle, which is an endangered and protected species in the Czech Republic, was found on 13 January in the village monastery at Nepomuk in the Pilsen area close to the German border. Having examined the body local ornithologists suspect the eagle may have been poisoned. According to them, the bird appeared to be in excellent condition showing no visible signs of injury.
The eagle was then transferred to the veterinary clinic in Pilsen-Lobzy where it was X-rayed to establish if it had been shot. After being examined by a veterinary officer,  initial finding established the eagle had not been shot and was at least two years old, probably a male, confirmed the head of the rescue station in Pilsen Karel Mako.
Further toxicology tests are now being undertaken and at this stage poisoning can not be ruled out said Karel Mako. As soon as these results are know we will add a postscript to the end of this article.
Second Dead Sea Eagle found in Southern Bohemia
A second white-tailed eagle was found dead in a clearing in the woods near Olšan between Henry Hradec and Telc in Southern Bohemia just before Christmas, it was suspected this bird may also have been poisoned. The corpse was  sent a raptor rescue station at Pavlov Havlí kobrodsko where an autopsy was undertaken. The incident was also reported to the police who instigated a criminal investigation after poisoning was confirmed.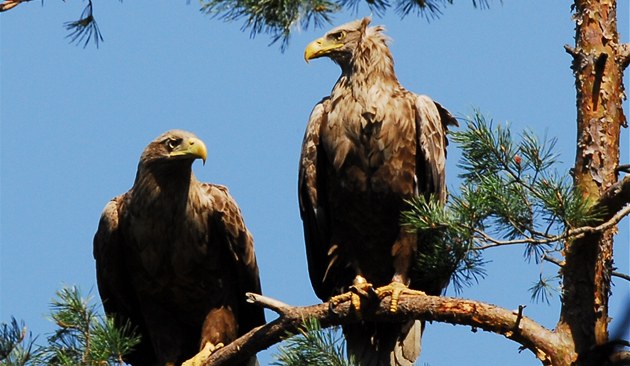 Sea Eagle| foto: Zdenk Mrkáek
The eagle recovered near Telc was also a young male, and again found to be in very good condition. On examination the bird's claws were clenched, an indicator the bird had been poisoned by carbofuran, said the head of the Pauline station Zbyšek Carnation.
Carbofuran is an agent based pesticide that has previously been widely used in agriculture throughout the Czech Republic. At present it is forbidden to use carbouran. The substance, in very small amounts, is placed onto a suitable bait from a syringe according to Zbyšek Carnation.
A local conservationists spokesperson has stated nobody seems to want to poison the eagles by design, the poison instead is used to control foxes, crows and otters. "These predators still often suffer because they largely feed on carrion," said Vaclav Hlavac of Havlíkv Brod Agency for Nature Conservation and Landscape.
After ingestion the poisoned bait the death of any animal is very quick, usually within a few seconds. In the incident above it was interesting scientists reported that no bait was found near the dead eagle.
In the highlands where the dead eagle was located scientists have confirmed there are currently five pairs of breeding WTE. In 1985 9 captive bred WTE's were re-introduced from West Germany into the Trebonsko biosphere reserve  in Southern Bohemia; there are now estimated to be over 70 established pairs throughout the republic.
The white-tailed eagle is one of Europe's largest and most powerful raptors with a wingspan of over 2 meters. Females can weigh up to seven pounds. White-tailed eagles are protected and regarded as a critically endangered species throughout the Czech Republic and neighboring Slovakia. In the Czech Republic, Slovakia and in Poland during the breeding season, February – July, nesting sites are protected by a 500m public exclusion zone.
Unfortunately as the WTE population expands cases of raptor poisoning in the Czech Republic are becoming more common, and even though this important issue has been repeatedly raised with the police, in just the last two years 4 dead white-tailed eagles have been located. There have also been two instances where trees containing a white-tailed eagle nest have been cut down deliberately inside the Czech Republic to prevent breeding.