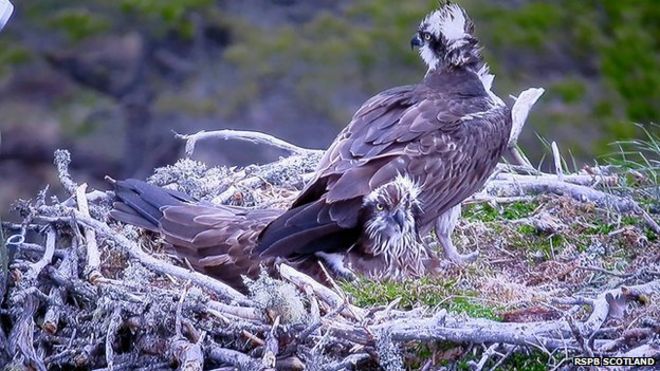 A male osprey has destroyed all three eggs in a nest at the Loch Garten Osprey Centre in the Highlands, according to RSPB Scotland. The eggs were being tended by EJ, a female, and Odin, a male, who have successfully bred in the past. The male interloper kicked out the eggs while EJ was hunting for fish, said the wildlife charity.
This year marks EJ's 13th consecutive season at Loch Garten in the Cairngorms. At 18 years old, she is one of the most experienced and well-known birds to visit the RSPB reserve. She returned to the Cairngorms earlier this year after making the 3,000 mile (4,828km) journey from wintering in West Africa.
The birds can be observed by members of the public 24 hours a day through a live web cam. Jen Clark, an RSPB information assistant who has been watching the progress of the birds, said: "Nature is cruel at times and hard to watch but these birds are only following their instincts, and fighting for their own survival.
"With the good comes the bad and there could be good yet. "If this new boy can continue to bring fish in for EJ, there is a good chance that she will accept and mate with him and we could see her re-lay.
"The season is not yet lost."