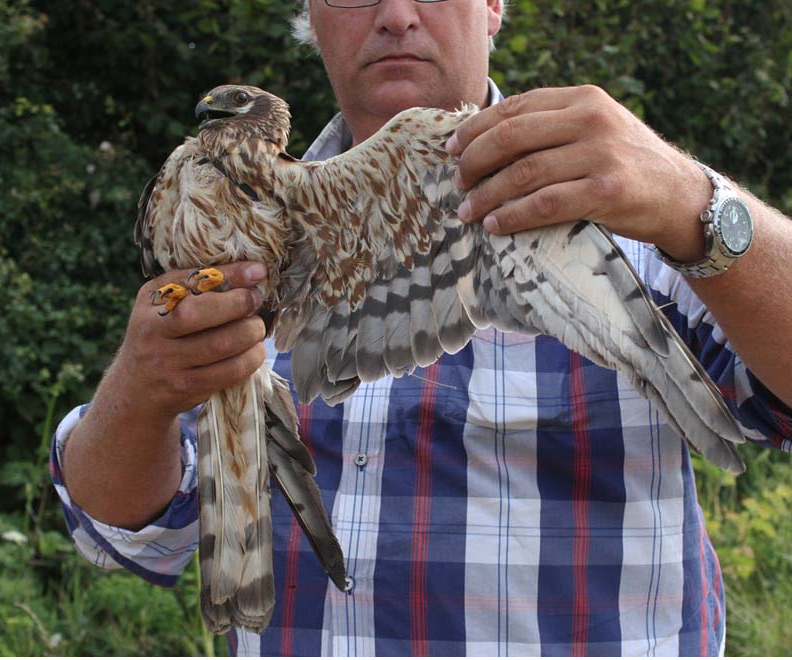 Mo the female Montagu's Harrier which has gone missing in Norfolk (© Mark Thomas – RSPB)
Scientists working on a project to track bird of prey migration routes tagged three Montagu's harriers, the UK's rarest breeding bird of prey, including this adult female in Norfolk in July. The tiny satellite trackers, fitted to the harriers' backs, reveal the migration routes the birds take between Europe and their wintering grounds in Africa. The missing Montagu's harrier, a three-year-old bird nicknamed 'Mo', was last detected leaving a roost site at first light close to Great Bircham, Norfolk on 8 August.
The Montagu's harrier is a slim, long-winged bird of prey. The male is pale grey with black wingtips and the female is dark brown. As an extremely rare breeding bird in the UK it needs special protection, and nesting sites are kept secret to prevent theft by egg collectors or general disturbance.
"This is a tragic loss of an amazing, and rare bird"
Ben Koks of the Dutch Montagu's Harrier Foundation, who fitted the tag, said: "Since 2005 we have tagged 58 Montagu's harriers, and a sudden loss of signal is exceedingly rare. It is very unusual that an experienced bird like this would abruptly disappear, especially whilst the tag was in the process of sending data, as it had done successfully for the previous few weeks."
Mark Thomas is an RSPB Senior Investigations Officer. He said: "There are very few possible reasons for Mo's disappearance, either she was caught by a fox and the tag was immediately taken underground, or she suffered illegal persecution and her tag was deliberately destroyed. With only seven pairs in the UK the loss of a breeding female is a serious setback to this threatened bird of prey."
Naturalist and The One Show presenter Mike Dilger filmed the item with Mo earlier in the year. He said "It's a very sad situation. I personally helped to tag Mo: she was a beautiful, healthy harrier and by now she should be zipping through the skies of Senegal. This is a tragic loss of an amazing, and rare bird."
The tag fitted to this bird was sponsored by owner of Lush Cosmetics, Mark Constantine, who named the harrier after his wife Mo. Mark Constantine has offered a reward of £5,000 for information on the missing harrier. The two other birds tagged, Madge and Mark, have begun their migration and are currently nearing their wintering grounds in Senegal.
The Norfolk Constabulary has launched an investigation into the bird's disappearance. Anyone with any information about the missing bird is asked to Crimestoppers on 0800 555 111.
Anyone interested in following the movements of the other tagged Montagu's harriers can see the birds' journey unfold atwww.rspb.org.uk/montytracking or by following the Twitter handle @UKmontagus